Words and images; images and words. For the purposes of this site, I categorize my work in ways that represent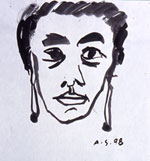 chronological periods of concentration: "when I was showing drawings," or "when I am submitting manuscripts." Both visual art and writing are always active in my mind, however. As I write this, I am engaged with blogging Starr Review, in which I review and muse about my experience with contemporary fine art and music. Words about images.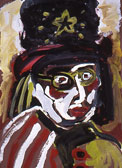 During the twenty years when I was actively making visual art, my favorite form was the artist book. I made books as page-turners with beginnings, middles, and ends based equally in strong pictorial and verbal narratives. Images and words.

My bachelor's and a master's in English literature are academic degrees. I have taken three introductory-level drawing classes; I have no instruction in painting, creative writing, and journalism. I am self-teaching in most things I do, and as such I normally lack predictable background influences: Don't look too hard for them.
I became an artist when I became a mother. Observing and wondering over the development of two children moved me into a more deeply inquiring approach to life and to profound appreciation for observant directness. I hope I bring to my drawing and writing something of the moral seriousness and of the sense of wonder that child-rearing renewed in me.